Note: Only the Owner of the organization can change the payments.

First open your organization management. You can open organization management by clicking on the name of your organization in the top right corner of your dashboard, and then choose the gear wheel: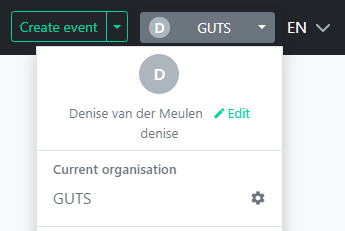 You can also click this link to open the dashboard and go to all the organizations you have access to.
Payments
You can set your Payment Service Provider (Mollie or Stripe) here. If a ticket has been sold, it is no longer possible to change the PSP.
In the dashboard of your PSP, you can set which payment methods you want to use. You can also override this via the dashboard. The payment methods and chosen currency applies to your entire organisation.