Under the tab 'Shops' you'll find your online shop. Here you manage your tickets. You can use the button 'Create ticket' to create your tickets.

Create ticket
When you press this button, you get the possibility to choose which pool you want to use. If your pool has not been created yet, you can do so by clicking on "Create a new one."
(Read here about pools)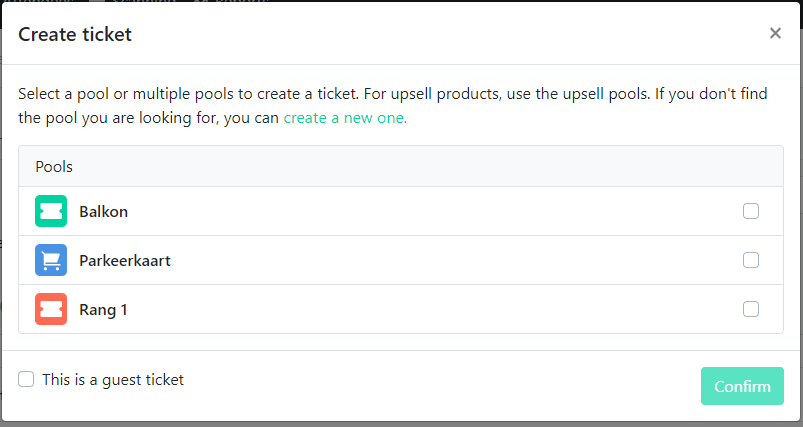 Ticket with 1 pool:
When you create a ticket you choose 1 pool. The ticket uses the capacity of this pool. The ticket automatically receives the name of the Pool and the word "Ticket". The availability is automatically picked up from the pool. You can enter a different (lower) maximum number for this specific ticket:


Combi-ticket
A combi-ticket is a combination of 2 or more pools. A combi ticket always picks the lowest available of the pools you use.
So: If there are 150 standard tickets and 79 parking places, then it will never be possible to sell more than 79 of these combi. Of course you can also put another (lower) maximum on the ticket yourself:

Upsell ticket
An upsell ticket can be used for different upsell products: tokens, food, drinks or merchandise for example. You have to create a specific pool for your upsell. When you create the pool, check the following box:



You can set a separate limit per person for any upsell ticket. The upsell tickets will not count in the total number of tickets that a customer may purchase for the event.

In Shop, these tickets are indicated with a shopping cart icon (Upsell).


Guest list
Read here about guest list tickets.
Group Tickets
If you want to sell 1 ticket that gives access to several people, you can make a group ticket. For example, you can do this if you sell several tables for 2-3-4 people.
Make sure your pool contains the number of people you can enter the location. Create a ticket, go to advanced settings and set the number of privileges. In case of a ticket for 4 people, set it to 4: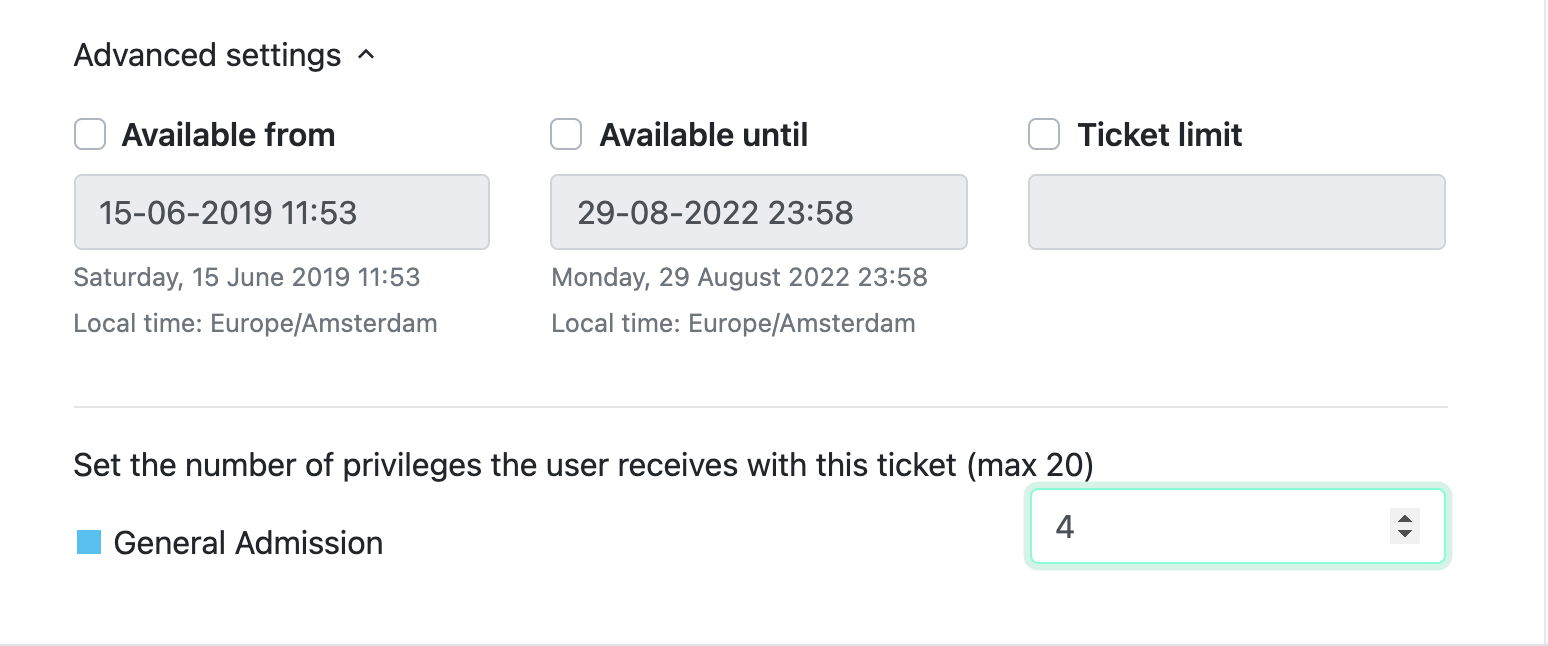 Note: This is only possible when creating your ticket. Once you have saved your ticket, the number of privileges cannot be changed. When you open your ticket, you can see at the top how many privileges the ticket consists of. In this example, the ticket is called 'Table 4 people' and it has 4 privileges, which are taken from the pool 'General Admission':