Under 'Shops' you'll find your online shop(s). Here you can create your tickets and change the lay out.

You can create different shops. Each shop has a unique URL.

Settings per shop
In the top of the tickets list, you can set when the sale takes place and how many tickets every visitor can order. This rule applies to all tickets, unless you have specified something else per ticket:

Create or copy
You can create a new shop or copy an existing one.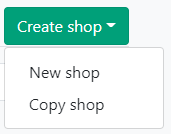 Language
When your customer visits the shop through the URL you've promoted, the language settings of their browser is used. If you want to force the shop to open in, for instance, English, please attach
/?lang=en at the end of the URL that you communicate.